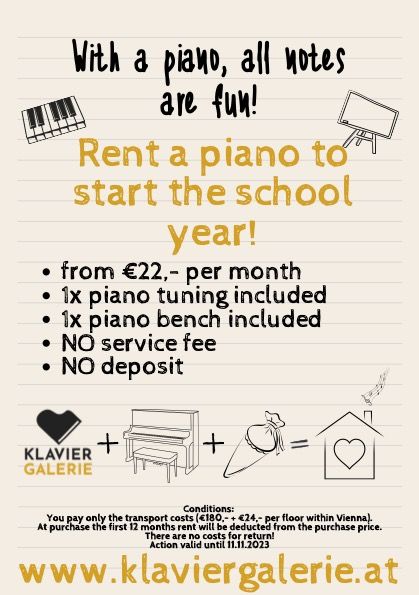 The start of school is approching and we have a very special rental offer for all families: Our school start promotion!
From only €22 per month, you can fulfil your dream of owning your own piano! But that's not all we have for you:
1x piano tuning included: we want to make sure that your piano is always in top shape, so that your music sounds like it's enchanting the room.
1x piano bench included: Sitting comfortably is a must for your playing pleasure. We include a piano bench so you can fully concentrate on your music.
NO handling fee, NO deposit: We want to make it as easy as possible for you to get started. That's why we have no hidden fees or deposits.
And that's not all:
Only transport costs to pay: The only costs that apply are the transport costs. Within Vienna these are only €180,- plus €24,- per floor. A fair offer to bring your new piano safely home.
Purchase price reduction after 12 months rent: If you decide to buy the piano, the first 12 months' rent will be deducted from the purchase price. A great way to own your piano for the long term!
Return at no cost: If you decide otherwise, you can return the piano at no additional cost.
Don't miss out – this promotion is a unique opportunity to start or continue your musical journey. Visit us at the KLAVIER GALERIE and discover the world of pianos.
Contact us and secure your dream piano! Make an appointment!
Offer valid until 11 November 2023. Transport within Vienna. Subject to change without notice.
#KlavierAktion #MusikVerbindet #KlavierGalerie