No more angry neighbours! With our own Real Touch Silencer System you can easily mute your piano and play in headphone mode. Thanks to this innovation, it is now no longer a problem to enjoy playing your instrument at any time, day or night.
The Silencer System can be installed on any Feurich piano, and can also be fitted to most models by other piano manufacturers.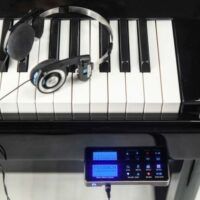 With our "Real Touch Silencer System", pianists can easily exercise their fingers, even during the night time. You can switch your instrument into "silent mode" and hear the sound through your headphones.
---
For Upright Pianos
The silencer can be built into any of our upright pianos, as well as into models made by other piano manufacturers. However, for some particularly small pianos, a different solution may be necessary if there is insufficient space to install a silencer.
---
For Grand Pianos
We have two different Silencer Systems for grand pianos:
The Standard System with a stop rail compatible with almost any brand of grand piano. The let-off is set up at around 6-8 mm distance from the strings.
"UK-Silencer System©" with the following two advantages:

The touch and the regulation of the piano is not affected in acoustic mode. The let-off remains optimal at around 1-2 mm.
Reduced mechanical noise in silent mode. Most grand piano silencers create quite a substantial noise when the hammer shanks hit the stop rail. In our special stopping system, the hammer jacks are deactivated in silent mode. Thanks to this, our system is much quieter than conventional systems. The touch in silent mode is slightly different – a slightly lighter key weight and no pressure point when striking the key.
For more information, please don't hesitate to contact us!